The media center of the Delhi Police Headquarters adorns a dated picture of three female police personnel trying their hands at the pistol, perfecting their shot, dressed up in a traditional sari and gearing up to tackle with any unforeseen challenge. If only it was not just a picture but perhaps more than it...... I guess the frame itself speaks of the fallacy that mars the very system that should have given every citizen a sense of security and care.How ironical too when the general atmosphere is rife with talks on gender sensitization, gender equality even enabling women with self-
defense
techniques.
It was for the first time in decades when the general public was so enraged to an extent that it decided to barge into the President's residence going as close to its gates, braving water cannon, lathicharge, going over board be it barricades or having a face-off with men in khaki and their counterparts from CRPF. As I stood at the India Gate on 23rd trying to make sense of the frenzied youngsters,who were shouting slogans, resisting the attempts of the police which was trying to evict the place of protesters at any cost, there came a couple with their young daughter, hardly 2-3 year old,in the laps of her father holding out a placard "I am your daughter,save me from getting raped", as I looked into the eyes of the toddler who was probably unaware of the message she was trying to give, her parents with a dogged stare of anger and determination to seek answers from those in power and not letting them go easily at least this time. "usko bachaya?", shouted another young girl as a woman constable tried to catch hold of her and stuff many others like her in a DTC bus, the simmering aggression against a failed state was palpable and evident in ways more than one- most of the women protesters refused and warned any lady constable from touching them, a random gesture that spoke of the abhorrence they bore for the Police, some of the male protesters deflated the tyre of that bus, others trying to get under the bus in an attempt to evade the police; as I approached another group of teenage girls looking anxiously here and there, I asked what happened, apparently the police had taken away a female protester and her fellow mates were having heated arguments with the senior officers, one of them came up to me, clinched on to my jacket and said,'I can't find my sister', before I could react there was another wave of push-and-pull; a woman with teary eyes and disheveled hair was being taken away by police this time, that face looked familiar I thought, yes I had spotted her at Jantar Mantar at the time of Anna's rally in August this year. Even protesting is a profession??Those notions were to fall flat as the day progressed churning out events that left those in the polity and onlookers like me thoroughly bewildered.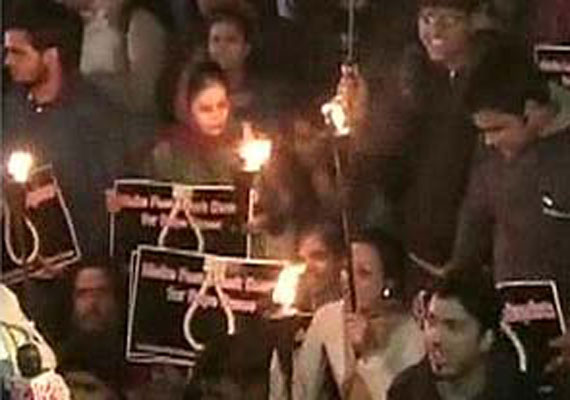 She did not need the label of 'Damini, Nirbhaya or Amanat', the fact is that she was one among us and the horrific fate she met with could have befallen anyone who had boarded that bus from Munirka bus stop on the night of 16 December. It is this feeling of oneness that has brought thousands protesting on the streets of Delhi. Its very usual for a commuter to board similar white colored green line buses many a times,the only option available when a DTC bus is not available for your destination readily, and yes preference of going out with a male companion or colleague is not only for the sake of company but also from the practical point of view a safe and best thought option. All those thoughts of being cocooned from any untoward incident received a jolt as the details of the incident unfolded, its bestiality throwing one's senses into a state of numbness, chucking an iron rod into someone's body is not something even hardened criminals have been heard of doing,these six were regular men for that matter,with the main accused Ram Singh known for frequent brawls in his area.An entire nation of a billion population wants him and his five accomplices to be hanged, and save that punishment for any perpetrators of as heinous a crime as rape for future miscreants.Whether death sentence can deter the occurrence of crimes is debatable, in this case it would prove to be a means of satisfying those looking for vengeance and some sort of reprieve from the current emotional upheaval.
Criminal Amendment Bill 2012 is pending in the Lok Sabha, two Commissions have been constituted, fast track courts been set up, additional patrol vans and a home guard in buses , these are some of the assurances been doled out by those in the govt. Unfortunately it has failed to assuage the people who want something substantive and in their marches and candle light vigils they are probably trying to say, " Dear govt, please act, for god sake please swing in action this time around, don't wait for a muhurat, honor of women is still being ravaged in and around the country, take steps swiftly so that our faith is restored in you after an infinitely long gap". As I held out the mike for a bite, a young man probably in his twenties, panting already exclaimed in an emphatic tone that he was here since his sister works in a BPO and that he would urge all others to join in.
Coming back to the flashing images of last Sunday when the boom sound of a tear gas shell became a perpetual refrain for the ears, when the AAP party members also joined in the protests and this is certainly not an allegation but as evening drew near, one could make out the lumpen elements in the crowd who had also made their way into the crowd at the India Gate, one such group tried to pull out a driver from a police jeep, another pelted stones, yet another roughed up Sandeep Dixit, there was no dearth of genuine protesters but their spirit was being dampened by hoodlums who even resorted to putting on fire mounds of wooden planks, hurling abuses at Sonia Gandhi, by 6:30 it was absolutely chaotic as we rubbed our eyes out of sheer irritation caused by tear gas shells, a wave of men and women ran helter-skelter, many breaking the rather fragile barricade of iron net fencing the adjoining garden in a bid to save themselves from the fury of the police. While the scene was flushed off with protesters, that broken slipper, and posters & placards now lying astray still echoed the sentiments of a movement which despite being an urban phenomena registered its presence in our conscience forever. Before the day culminated with this mayhem, I also met a man who had come all the way from Muradabad to tell a tale. Allegedly, his brother's wife was abducted and raped by few men, whom he stated had relatives in the Police and despite repeated letters to the mighty & influential that included the PM, NCW (National Commission of Women), Lal Krishna Advani, NHRC (National Human Rights Commission), a copy of which was shown to me, no action had been elicited so far. While recording his bite and as the camera person made block shots of his set of letters, I realized how the Delhi's incident had actually allowed so many smothered voices to share their anguish, for yes the channels and media in all its form focused on crimes against women like never before.
But as the momentum of protests refuse to die down across the country, there is a dose of introspection needed even by the protesters. If only they are driven by a firm ideology henceforth, their efforts shall never go in vain and street protests will not fizzle out with the passage of time. And what is that ideology going to be? Revving up this campaign in a fashion that encompasses gender sensitization to be administered at a very primary level, revamping that 'dented & painted' mindset and converting this process into a sort of feminist movement lasting for decades reaching out to even that small town girl who has been trained to dress adequately with dupatta drawn over her chest to avoid unwarranted gaze at the wrong spot, shall I say when jeans and skirts are not considered an anathema in society into that heaven of freedom let the men of my country lay awake!
India's Daughter from Balia has unconsciously raised a stock of questions that expose the wobbly state of affairs in terms of preempting a crime, to plugging the loopholes in the safety net of the general public, all such questions and their offshoots need immediate address. Damini,Nirbhaya or Amanat call you may by whatever name, attention needs to be shifted from her to those belonging to her clan.