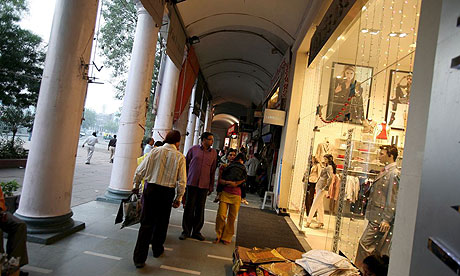 Weekends for me are usually characterized by sauntering around in the obvious alleys that pockmark the very ubber cosmopolitan milieu of Delhi; one such place where the humdrum in the backdrop is coupled with gentry comprising of gorgeous lasses with a hair-do, styling, attitude and an air of oomph factor plausibly hanging around with their mates, err, digging them with oodles of wile, for shopping always seems to be an unfulfilled pursuit, eateries some well known being 'Wengers' that is a haven for baked delicacies, the ones from the aegis of Uncle Sam, McD & KFC, 'New Book Depot' & the illustrious 'Jain Book Depot' catering to the needs of book aficionados

and an array of restro-cum-pub-cum bar, that reminds me of 'Castle9' and '@live' this locale of concentric circles being festooned with the likes of wondrous theaters like PVR, Odeon, etc. , not to forget those umpteen road-side vendors whose mercantile is bubbling with bric-a-brac, I owe a lot of studs and my collection of bling to them, with the bhelpuri wala straddling in between block G and H offering a real delectable delight,

yes friends, Ciao! For this is Connaught Place, affably known as CP.
From being befuddled to having been acclimatized well to the place strolling down which, is a jaunt that reinvigorates one to the hilt especially if you aren't one of those phoney types who feign to be Romani when they actually have a penchant for lying smug out there in their closets! It was another routine hanging out with a friend of mine at the most happening place of the city, an attempt on our part to break the drudgery that creeps in through the inexplicable mundane antics of our lives, gearing up to survive another harrowing week! We had just succumbed to our natural instinct of quenching the raging thirst through the 'Moito' the Vanilla Blue one, and had just stepped out to have a face-off with the sweltering afternoon when my swift pace was halted by someone!
'Didi ji 10 rupaiye me 2 pencil, le lo naa', a jarring not struck in my ears as I looked down at the boy hardly six years of age, bearing a disheveled look with a shaved head, wearing a worn-out blue t-shirt that had turned into something having grey hues, a half-pant with his clothes giving the appearance as if either not having been washed for quite a while or perhaps they had that dusty look owing to excessive laundering, his frail hands with two pencils in hand rising in air the toddler trying his level best to strike a handsome deal with his prospective customer that happened to be me. Here I would like to share with you all that I'm among those who avoid reaching out to the wallet and shed a few shillings as inadvertently I'm indeed aiding a social malpractice the very existence of which

cocks-a-snook at the ramshackle state of

society. So that urchin had definitely not spread his arms rather had harped on to a comely way notwithstanding that even that was smacking at the foibles of the ecosystem he's part of, in unfathomable ways.

But all those notions of mine seemed to have vanished into thin air and somehow popped up a need for those pencils where a few minutes ago there existed none.
A wide smile swept across his face as I handed over a ten rupee note to him after which I joined my friend who was absorbed by now drooling o'er some earrings, my thoughts still wandering around the ill fate of that boy who by now had moved on in a bid to convince two girls who didn't have any time to listen to any of his words rather hurled at him the coke they were relishing as a token of brandished sympathy. I could not take it any longer and without any furtive glances approached my little pencil seller, with my eyes looking forth his elder sister who was also moving around carrying some other stationary items bundled up in a bag over her shoulder, as she enhanced her proximity with us sensing some fallacy that might have construed at the hands of her younger brother. Reassuring her that wreckage had in fact not recrudesced, I handed a 'certain' amount to her saying that this is something I wanted to give to the toddler who in a brief gab confessed to have never gone to school, what an irony of fate, those hands that should be holding a pencil to write had hundreds of them but for another purpose altogether…. I walked away for a verbose person like me was facing an extreme paucity of words at this point of time.

I decided to keep it 'certain' for divulging it would not be able to convey my emotions with lucidity; nevertheless that 'certain' was not a bounty that could change the life of that lad forever.
Our next sojourn was Bangla Sahib Gurudwara followed by Saint Cathedral Church, ah! Somehow we decided to adhere to our spiritual penchant that was accompanied by a rabid curiosity to visit these places and pay an obeisance to the Supreme. While you have to winnow your way out amidst the crowd in the gurudwara that was erected in 1783, having been dedicated to the eighth Sikh Guru, Guru Har Krishan, the place being thronged with Sikhs and those belonging to other religion as well, with an utmost management playing the driving force that averts those men and women from being thrown into the form of a hurly burly crowd. Having performed all the essential chores with utmost mien that are considered obligatory once you are inside the sacred haven we drifted towards the Sacred Heart Cathedral and after a brief hearing to the incantations followed by lighting the candles on the outer patio of the Church, headed back towards home.
I was mulling over the instances of the entire day as I hoped to reach not only my destination but also a plausible conclusion been churned out at the end of it. Friends, the way I've witnessed life and its machinations unfolding in some of the most unexpected ways, I respect others' religious fervor with unflinching commitment though I must admit my own sense of spirituality and mode of seeking solace has become to adapt atheist ways, some distinct sort of upsurge dawning on me with extreme moment of catharsis.

Unfortunately I didn't have that experience of sorts at both the kernels of worship that draw hordes of people towards them, though definitely I do not want to connote any vituperative thought regarding the same. The one thing that lasted for quite long was the face of that urchin and his humble and ardent request to buy those pencils; I knew what had filled me with an inner satiation, this brimming gaiety being spilled in the words of Ghazal singer Jagjit Singh, "Ghar se masjid hai bahut door, chalo kisi rote hue bacche ko hasaya jaye"…….